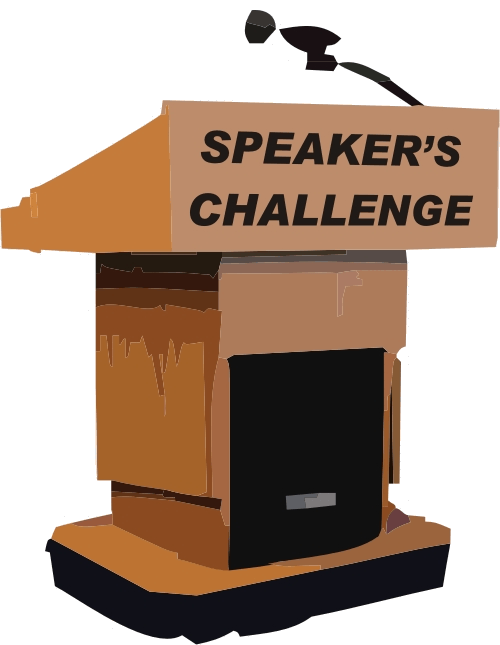 SPEAKER'S CHALLENGE
Education and Entertainment Services
At Speaker's Challenge we educate others by both organizing and challenging conventional wisdom. Most people would like a knowledgable guide to help them plot a course into the future - no matter what their situation or field of interest. The usual problem we encounter is that conventional wisdom alone will never get us where we want to go. Rather we need to understand what's really true, abandon what's not, and challenge all the assumptions and habits that we often carry forward without question, ultimately to our detriment.

We have many forms of contact and presentations. A sampling of our courses for individuals and groups is shown on our courses page. We can also be hired directly to produce and deliver tailored education and strategy speeches, seminars and workshops, or more entertaining and freewheeling lunch and dinner speeches on various current themes (see our speeches page).

We also offer a series of sponsored encounters arising out of the project Planetary Management Now (see our speeches page).

Speaker's Challenge is a two-edged sword. The challenge to us as speakers is to tailor our addresses to your organization and its events, and to adapt to the needs of our audience. At the same time, what we say will usually challenge the current beliefs of our listeners, and typically no one leaves the room unchanged in some way.

Bruce M. Small has a long history of public speaking, and is especially known for being able to question respectfully our cherished and established views and to challenge conventional wisdom on almost any front. As a professional educator in life skills, he is sensitive to his audience's real and immediate needs, and expert at anticipating our fears and insecurities to give us the boost we need to get over them. As an engineering physicist, he knows the difference between fact and fancy. As an environmentalist, he has worked on the question of planetary survival for the last forty years and has a deep and keen understanding of what will lead us to better order in the world. As an individual he has done his own homework to clear his brain of excess baggage. This shows in the clarity and energy of all his presentations.

Howard Rubin's viewpoints are born of real life experience - as an entrepreneur, as a father, and as a son of holocaust survivors with a family tree full of holes. He never hesitates to make direct contact with other human beings. He makes friends wherever he goes. He has bounced his way through economic recessions and personal challenges with a level of ingenuity that will always guarantee his survival. He is equally comfortable underneath a car, inside the back of a computer, and wielding a spatula in the kitchen. To him, technology is a tool to get what you want and people are for getting to know.

We also have other interesting speakers whom we can tap into, depending on your needs, tackling difficult subjects such as prejudice, race, men's and women's issues, marital relationships, raising children, sexual orientation, gender, marriage, medicine, therapy, health issues and more.

If you are interested in courses as an individual, consult our courses page. If you are staging a group event, tell us about your group, who will be coming, and what you think they need or want. We will tailor the course or the speech topic to the occasion, and can give you a descriptive outline in advance for your publication. Visit our courses page or speeches page for examples of possible topics.

To check course timetables, book a speaker, or discuss a tailored event, just email Howard Rubin at howardrubin@envirodesic.com and leave your phone number and time zone. He will get in touch and help figure out what will work best for your situation.

We are also listed with LocoLobo Events (Corporate Entertainment, Musician Booking, and Event Planning) under "New Artists".

For further information about Speaker's Challenge and an assessment of our capability to help you or your organization, contact Howard Rubin, President of Small & Rubin Ltd. at the address shown on the contact page.